The first two days of my trip to Israel were spent on the Sea of Galilee at the Galei Kinnereth in Tiberias.

I'll give you a little background so you will have a feel of the land.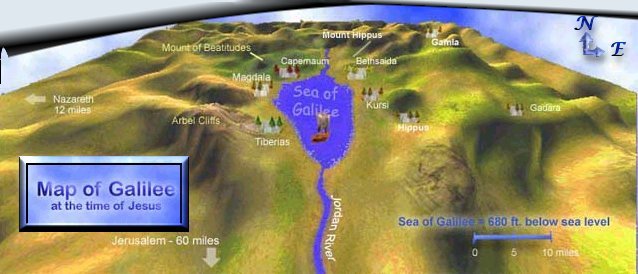 The Sea of Galilee is an unusual body of water. It is relatively small (13 miles long and 7 miles wide) but 150 feet deep. The Sea of Galilee is known as the Kinneret by modern Israelis and in the Scriptures "the Sea of Chinnereth (sometimes Chinneroth)" (Num. 34:11) and sometimes the "the Sea of Tiberias". The name kinneret and chinnereth are derived from the Hebrew word for harp. The name was chosen because the sea is harp shaped.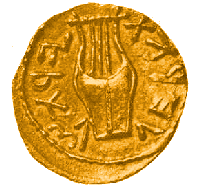 (A coin with an imprint of a harp)

The Sea is one of Israel's most important sources of water. The Jordan River enters it at its northern end and passes out at its southern end. Already in Biblical times the Sea was famous for its fish. One of the most vivid images is of Jesus and His fishermen disciples who lived and preached on the shores of the Sea of Galilee. Here Jesus walked on the water. At Capernaum, on its northern banks, Jesus performed more than forty miracles.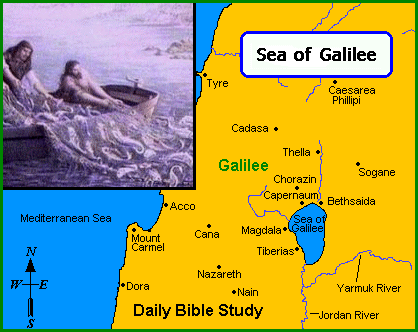 Can you imagine the Sea of Galilee, where most of the public life of Jesus was spent, and there I was? Awesome!
I set my alarm so I could get up and view the sunrise on "The Sea of Galilee." The sunrise was somewhere in the area of 6:30. So, I gave myself plenty of time by getting down to the shore around 5:00 or 5:30, because I figured there would be quite a few of our tour group members doing the same thing. Wrong!
It would seem that God had a special time planned just for me. No one was down there but Jesus and me... for two days!



The first morning I got up and started down to the shore, but I wasn't sure where or how to get to the shore. Our hotel was the Galei Kinnereth which was right on the shore of the Sea.
I went out on the terrace of the hotel where it was quite lovely, with a swimming pool and lounge chairs, but that was not where I wanted to view the sunrise. So, I saw some steps off to my right and they led down to another set of steps, all going down toward the beach. Wonderful!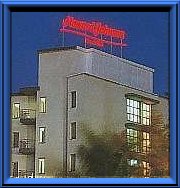 This is the Galei Kinnereth Hotel

I found a secluded spot off from the hotel with a nice shoreline and a wonderful view. Now the shoreline is real rocky but nothing you can't walk on, but rocky.
I found a spot and stacked a couple flat rocks on top of each other so I wouldn't be sitting so low to the ground. (You know, at this stage of life sitting on the ground is not bad. It's just the getting up that hinders me!) Anyway, back to the sunrise.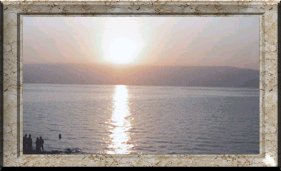 This is a picture I took at the Sea of Galilee
Most of you know by now that "radical" is a word sometimes used to describe me. (Radically sold out to Jesus). So, sitting on the shores of Galilee seemed to be a natural thing for me. Right?
I was sitting there just waiting on something, not really praying or meditating, just waiting for something to happen. The sun was beginning to come up behind the mountains and the sky was getting that beautiful pink color. I was getting my camera ready thinking the sun was just going to pop up and I was determined not to miss the picture of a life time!
Ten minutes later I put my camera down, because my hand was getting cramped from holding it. I was still waiting on something and I started talking to the Lord, "You know Lord, if you walked across the water right now, it wouldn't surprise me. In fact, I think if You asked me to meet You half way I could and would do it. Yes, I'm sure I could."
No, I didn't walk on water. But being the secure child of God that I am, I turned around to look and make sure no one was watching me, just in case the Lord bid me to walk on water and I fell on my face.
(This reminds me of one of my favorite sayings: "Doubt is too heavy to carry, when one is to walk on water".) Truly, I would have tried if God had bid me and I would have walked on water, because God is not going to ask you or me to do anything that He does not empower us to do!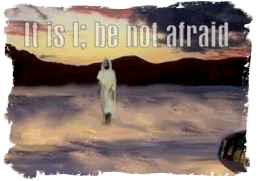 The sun came up and I took pictures of the sunrise on the Sea of Galilee. After the sunrise, I started looking around. Then I started picking up rocks and throwing them into the sea. Of course, I picked up a couple of rocks and decided I must have this one and that one for my collection.
I was still sitting on my pile of rocks and I saw a small two-toned rock. It was beige and brown and just a pretty little rock. I picked it up and threw it back down. But, for some reason that rock remained in my thoughts throughout the day. Crazy... a little rock! Why?


Now, for the rest of the story… Just before I left for Israel (1999), a dear sister from Canada called me. She wanted me to hear a beautiful new song. "I just had to hear it!"
So, she proceeded to play it over the phone for me. What the dear sister didn't know was the song was not new to me. In fact, I had adopted the song as my theme song many years back. The song was "Alabaster Box." Every time the song was sung I would start weeping.
The song has many beautiful words about the woman with the alabaster box that came to anoint Jesus' feet, but the part that always seems to hit me so hard, goes like this: "Don't be angry if I wash His feet with my tears and I dry them with my hair, you weren't there the night He found me. You did not feel what I felt when He wrapped His loving arms around me, and you don't know the cost of the oil in my Alabaster box."

So, what does this have to do with the two-toned rock? Well, the sister that had called to play me the song asked me if I would bring her a rock back, from Israel, were I met Jesus. You see, my friend from Canada, also collects rocks. So, I got up the second day on the Sea of Galilee and went back to my stack of rocks. And lo and behold, there it was---my two-toned (small) rock, right were I had dropped it among a bunch of tiny seashells! I picked the rock up along with a hand full of seashells. (Pardon me if I keep getting sidetracked with details, but I must share this with you.)
I looked up the definition of alabaster, so I'll share it with those who are not quite sure (like me) of what it is! Alabaster: A fine, light-colored, marble-like stone used in the manufacture of vessels to hold ointments, and perfumes. Such vessels were themselves called alabaster.

I'm sure by now that you have made the connection. Wait! The story gets better. I took the small rock back to my room and put it in my billfold. At the hotel where we are staying there was this quaint little shop. (I have another story on this shop but I will save it for later.) I was walking around looking at souvenirs and there it was…a small alabaster box! I purchased the box and took it back to the room. The rock fit perfect in the box and the color of the rock and the box was almost identical. Amazing don't you think?
Did I walk on the Sea of Galilee? No, but in my heart I was walking and I had in my hand a small alabaster box.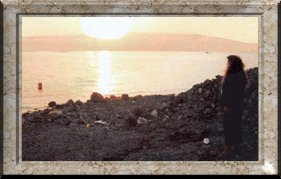 There I am, watching the sun rise at the Sea of Galilee! In His Love and Service Billye Jean


"The entrance of thy words gives light:"
Sha'aloo shalom Yerushalayim

Reference: Map by http://www.keyway.ca/htm2002/index.htm